Guardians of the Sacred Earth
Do you long for deeper connection, awareness and response-ability
with the spirit of your home and planet?
Guardians of the Sacred Earth
with Fearn Lickfield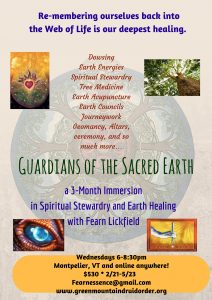 This course is now complete for 2018. Stay tuned for future dates and the soon to be released recorded version!
Immersion includes:
*14 power packed modules with transformative earth teachings and practices
*Loads of info, articles, and techniques for skill building and reference
*Membership in an active and growing community of Guardians of the Sacred Earth.
*A custom healing essence for you and your land,
*Activation of your healing essence, spirit helpers and the Grove to empower your work.
*Gain clarity, skill, harmony and empowerment with your home.
Topics:
Spiritual Stewardry, Geomancy
Dowsing, Earth Energies
Faery, Elemental Magic
Tree Medicine, Journeywork
Earth Acupuncture, Flower Essences
Spirit Allies and co-creation
Altars, Ceremony, Prayer
and so much more…
The mission of GSE is to facilitate the innate capacity of people to connect spiritually with the land in order to co create healing, balance, fertility and sacred space. Every human who has access to even a small piece of precious land can affect everything! We train people to become empowered and skilled stewards who can understand, respond and serve the earth in this time of great need and change.
Guardians work intimately with the medicine and teachings of the trees for wisdom and remembrance of our original instructions; our roots go deep below, our crowns rise to the stars above and our hearts open wide to life.
Become a Guardian. The Earth needs us.
$530. Pre-registration required.
Payment Plan
If you cannot prepay in full you can opt for our accessible payment plan;
$200 deposit, + $110 per month for 3months.
Testimonials from graduate Guardians;
Thank you Fearn! It was a life changing experience for me and I am so grateful for you deep wisdom and huge heart. I look forward to many more opportunities to learn from you. You are such a gift to this world. Blessings!
~Kelly Iverson
Fearn's course, Guardians of the Sacred Earth, has been invaluable to me. Fearn has been an incredible teacher. With open-minded acceptance, yet a clear understanding of what is essential, she has gently guided me. Because she had no judgement, only observation, acceptance, and helpful feedback, I felt I could not fail. Because I felt such freedom in her guidance, I have grown more deeply into my own path. Fearn's course has helped me grow in ways hoped for and in ways unexpected. I am deeply grateful.
~Merrily Lovell
For more info and to register:
contact Fearn at fearnessence@gmail.com or 802-505-8011