…of the Green Mountain School of Druidry!

Fearn Lickfield is teacher, administrator, director and Chief of the Green Mountain Druid School and Order. As head teacher she is present with each grade of the Druid Training, and assisted by one or more of the wonderful Druid teachers below.
Fearn is web weaver and remembrance facilitator, guiding people back into the Heart of Nature.  She walks as a spiritual educator and guide, flower essence practitioner, geomancer, faery seer, dowser, ecstatic dance leader, community organizer, gardener and medicine maker. Being a lover of magic and ritual, she creates and leads community celebrations in honor of the earth and waters, the seasons and for rites of passage. Fearn is steward of Dreamland, home of the GMDS; a sanctuary and mystery school in Worcester VT.
Home Study Mentors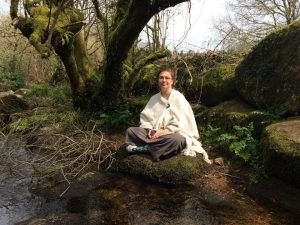 Victoria Brosnan has been on a spiritual path for over 30years. She's an RN trained in multiple forms of reiki & energy work, massage, Taoism, Tantra, Druidry, Faery Seership, and more. Member of Heart Fire Clan & Druid graduate of the Green Mountain Druid School 2018.
Bunny Whisperer.
Priestess Path generation 14.
She loves creating spaces for people to come and have magical transformative experiences.
Teresa Thompson, aka Juniper, has a Bachelor's Degree in Education from the University of Vermont. She has worked for over 25 years in both public education and the private sector, teaching languages and working with persons with disabilities. She began her Druid studies as a home school student in 2009. After a year in the home study program,  she continued her training onsite at Dreamland and is a member of the Draegon Clan.
Dreamland Druid Training staff;
Kari Hetrick aka Auntie Bear of Heartfire Clan.  As far back as I can remember, I have had a special connection to nature and spirit.  Over the years have studied with many teachers on different paths finding truth in all of them.  As a Druid, I have gained the tools to weave it all together, to deepen my connection with all beings including myself, and allow my magical child to be joyfully authentic through laughter, song and play.
Ovate Grade